When it comes to picking a ceremony time, there are SO MANY FACTORS that you need to consider. Let's dive right in and look at three of them.
1.WHAT TIME IS SUNSET?
This question will come into play for a number of the following factors, so let's address it from the get-go.
First, visit https://www.timeanddate.com/sun/usa. From there you can select the city where you're getting married (or the nearest big city if yours is small and not listed). Next you need to make sure you have the correct month and year selected; then you'll scroll down to find the day of the month you're getting married. The first two columns are the sunrise and sunset times. Whatever time is listed for sunset, that's what time we want to aim to be done with pictures. So for example, if sunset is listed at 7:37pm, I'd usually say we need to be done with pictures by around 7:30. If sunset is at 5:12, I'd recommend being done with pictures by 5:15.
(There's still light left for another 20-ish minutes after the sun sets, but I prefer to be done by the actual sunset time.)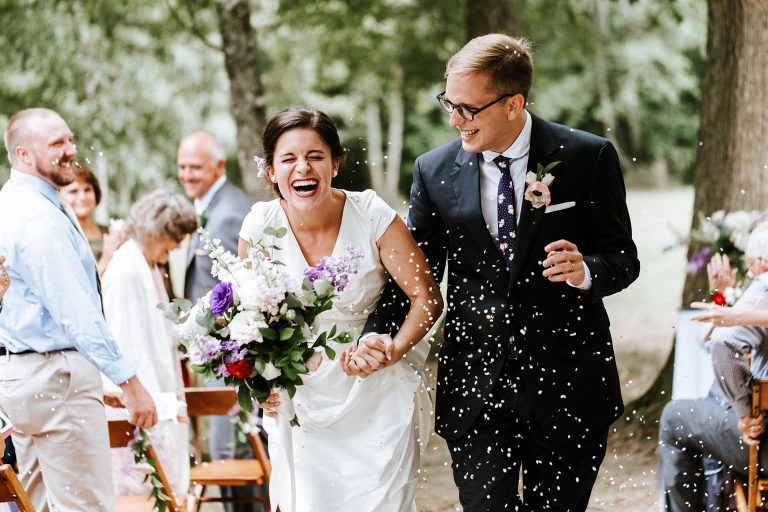 2. ARE YOU DOING A FIRST LOOK?
If you've decided not to do a first look, you need to pick a ceremony time with enough light left to do all of your formal pictures (wedding party, family, and bride + groom) before the sun sets. I typically recommend starting your ceremony no later than two hours before sunset.
If you ARE doing a first look, I recommend starting your ceremony no later than one hour before sunset. This gives you time to have your ceremony (average 30 minutes) and then do a few sunset bride + groom photos before being announced at your reception.
(If your ceremony is even earlier in the day, you can be announced and spend some time at your reception and then sneak back out when it's time for sunset bride + groom photos).
3. ARE YOU GETTING MARRIED OUTSIDE?
If your ceremony is happening indoors, then the first two points are the only ones you need to pay attention to. But if you're having an outdoor ceremony, there are a few additional things to consider.
First, you need to decide what sort of ambiance you want.
Are you specifically wanting your ceremony to happen as the sun sets, turning from colors to dark dusk? Since there's still light for about 20 minutes after the listed sunset time, you would want your ceremony (if it's the average 30-minute length) to start around 20 minutes before sunset. This will be harder to accomplish since ceremony times are typically only at the hour and half-hour mark. So for example, if sunset it at 7:32, the ideal lighting would be from 7:15-7:45. But because 7:15 is an awkward time to have a ceremony time, you would just need to decide if you want it to still be brighter (7:00-7:30) or darker (7:30-8:00) at the end of the ceremony. You would also need to have a first look if you have your ceremony at sunset, and plan to be done with pictures one hour before the ceremony starts.
Or are you wanting your ceremony to happen at night with twinkling lights above you? As a photographer, this sounds absolutely dreamy. You would just need to make sure you have enough twinkling lights for your photographer to have plenty of light to work with. If this is what you want, consult your wedding photographer beforehand and make sure you have a game plan and that you're both comfortable with how much light will be available.
If you're ceremony will be earlier in the day, then you can just refer back to the first two points in the article.
And there you have it! Of course there can be any number of factors I haven't listed here based on your personal preferences, unique elements to your wedding, etc. But this is a great place to start for most ceremonies! As always, it's best to reach out to your photographer and/or wedding planner to talk about all of this as well.
Hope this was helpful! Happy planning!