If you're working with a budget when planning you're wedding, there are going to be a few things that you feel are more important, and to which you're willing to dedicate large chunks of money; the venue, planner, photographer, florist, and caterer tend to be the big five when it comes to priority vendors. Or maybe you want to focus more on other things, like your dress, calligrapher, decorator, or band. All of these vendors are important and deserve to be respected and paid well for their services; but one thing I would urge all brides to consider is the importance of hiring a good makeup artist.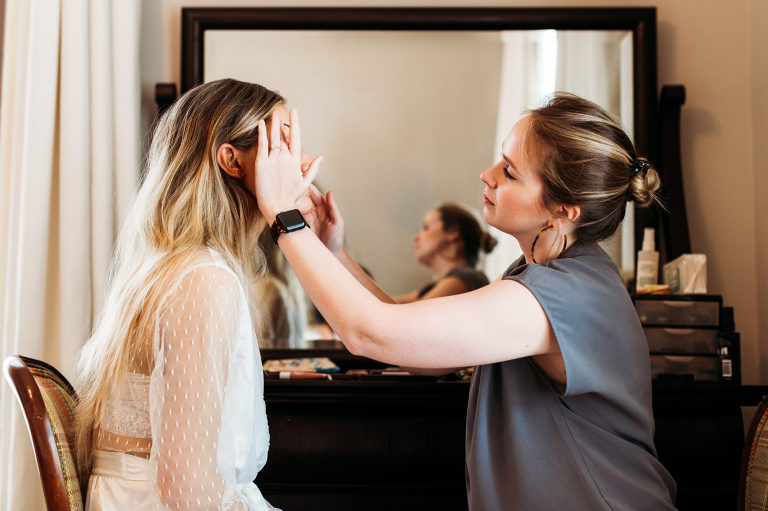 As a general rule of thumb, it's never a good idea to skimp on the person who's in charge of your appearance on the most documented day of your life. Maybe you have a friend who does makeup on the side, or maybe you're thinking about saving money by paying someone just starting out. I'm not saying these options are DEFINITELY a bad idea; maybe your friend is REALLY talented and wants to help out, and maybe that new student is about to be discovered and just has to start somewhere. But if you're going that route, you'll definitely want to pay to have a trial session done before hiring them to see how you like their style and how the makeup holds up throughout the day.
I'd be remiss not to add that you should NEVER assume your photographer will be able to fix a bad makeup job after-the-fact. And even if they're *capable* of fixing it while editing, most photographers charge extra for detail jobs like that, as it can be incredibly tedious and time consuming. If you struggle with acne, uneven skin tones, dark circles, etc. and you're concerned about how your skin will look in your wedding photos, a good makeup artist will be your best friend. It's far better to hire a professional who'll be able to make your skin look perfect than it is to have shoddy makeup and hope your photographer will be able to fix it later.